Treatments |

Anti-Ageing

The Anti-Ageing Facial is an intensive treatment using cutting edge techniques that are unique to The Skin Investment Clinic. This exclusive, multi-faceted treatment is specifically formulated to improve the appearance of skin ageing caused by genetic and environmental factors. Using award winning technology, this treatment enables the deeper penetration of active ingredients. 

A global anti-ageing treatment and product range specifically designed to meet all the fundamental needs of a demanding and mature skin. Working on the 3 causes of skin aging, external (sun, pollution, diet and lifestyle), genetic and hormonal , carefully selected ingredients work on much needed nourishment and moisture levels, protection and intense regeneration. 

This enhanced diffusion of epidermal growth factors, antioxidants and other active ingredients goes to work directly on the targeted layers deep within the skin. A superficial skin peel and advanced cosmeceutical products further enhance this process to stimulate collagen growth, boost hydration levels, combat free radical damage and encourage skin renewal.  This avant-garde facial both prevents and corrects the appearance of skin ageing for a fresh, glowing complexion. The skin recovers its energy and becomes firm, toned and full of radiance. Deep lines and wrinkles are reduced, leaving the skin plump, smooth and firm. The facial contours are redefined, the complexion more uniformed, restoring a beautiful youthful appearance.
The Benefits of The Anti-Ageing Facial
Boosts skin's radiance
Increases skin firmness
Stimulates skin rejuvenation to minimise the appearance of fine lines and wrinkles
Provides deep hydration
Improves skin tone and texture
Helps minimise hyper-pigmentation 
Helps minimise open pores
Combats oxidative stress and UV damage
The Condition: Skin Ageing
Skin ageing is a degenerative process caused by intrinsic (chronological) and extrinsic (environmental) ageing. These factors contribute to the visible signs of skin ageing. These include:
A loss of skin firmness and laxity
Fine lines and wrinkles
Sun damage and hyper-pigmentation
Irregular skin tone and texture
Large pores
Dry skin
Loss of facial volume
Intrinsic ageing is a natural process, determined by internal factors and is programmed by our genes.  Unfortunately, we have very little control over this. Extrinsic ageing, also known as photo-ageing, is caused by external factors that we are regularly exposed to and can be prevented or minimised.  External elements such as sunlight, pollution, nutritional intake, smoking, stress and lack of sleep are among the most common factors. The single biggest culprit is the sun!
Skin ageing causes the surface layers of the skin, known as the epidermis, to thin and the number of melanocytes, the pigment producing cells, to decrease. In addition, in sun exposed areas the remaining melanocytes increase in size. This leads to the skin appearing thinner and more pale, with large pigmented areas known as age spots, lentigos or liver spots.  The production of oil slows down causing dryness and the blood vessels become more fragile, increasing the incidence of bruising and other related conditions.  Loss of fat under the skin becomes evident in areas such as the cheeks, temples, chin, nose and eyes.  This is the basis for a more 'skeletal' appearance with a loosened skin and sunken eyes. Collagen and elastin are the fibres that give our skin its structure and the breakdown of these leads to lines, wrinkles and a loss of elasticity resulting in skin sagging.
The sun's harmful rays are the main culprit behind many of these skin changes and although these effects can not be completely undone, with the correct skin care and advanced clinical treatments, they can be significantly reduced.  The skin remembers every hour of sun it's been exposed to, and although the effects don't show whilst we are young, it's extremely important to protect your skin throughout your whole life.
What does the treatment involve?
This bespoke anti-ageing treatment begins with a thorough skin consultation and skin analysis.
Emphasis is placed on a treatment and homecare programme as well as dietary recommendations to help you reach your anti-ageing goals and help slow down the ageing process.  Your treatment is specifically designed for your own individual ageing symptoms and concerns.
Taking your concerns into consideration a precise collection of the latest advanced machines, skin peels, specialist massage techniques and cosmeceutical products will be combined to deliver dramatic results. Using the award winning technology, this is one of a kind, painless treatment creates thousands of tiny micro-channels in the skin to aid the deeper penetration of active ingredients. The Anti-Ageing Facial is individual to you and may differ with each subsequent appointment depending on your concerns and your skin's health.
Long term results and skin maintenance are achieved by continued regular advanced clinical treatments and accompanied by a preventative, corrective and protective homecare regime.
Downtime
There is no downtime after the Anti-Ageing Facial.
Normal activities can be resumed immediately.
How long does the treatment take?
60 minutes. If necessary, the treatment can be lengthened accordingly.
Cost
From £96.00 per session
If appropriate for your skin a double session or treatment course may be recommended, but there is no obligation to book this.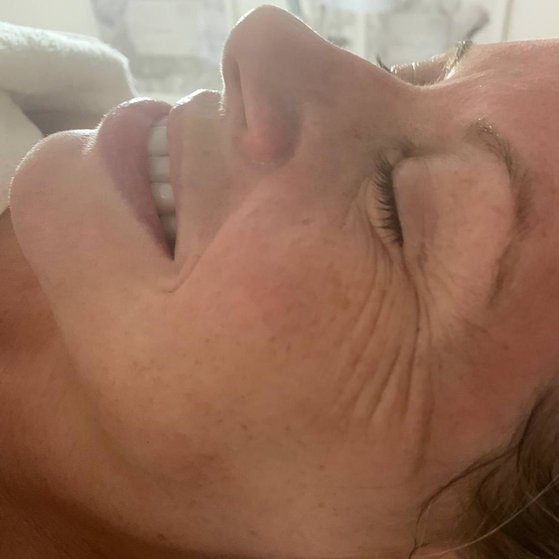 Before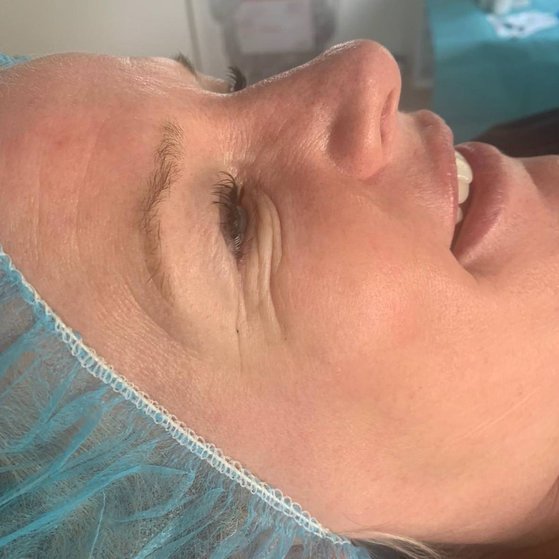 After