Treatments |

Menopausal Skin Facial
Peri-menopausal and Menopausal Skin:
Many of our lovely customers come to us for help with skin care challenges related to perimenopause and menopause; Oestrogen levels that fall while androgens stay constant can lead to a variety of unwelcome changes, ranging rom acne that's reminiscent of the teen years to wrinkles that seem to have settled in overnight. Whatever your skin concerns you are facing during menopause we are here to help. We can arrange a consultation with a dermatologist to discuss more chronic skin issues, by following this link. Alternatively, we have a bespoke clinical facial treatment to treat some of the main general complaints patients face during peri- menopause and menopause itself.
The Condition: Menopausal Skin:
During this time, the production of collagen, elastin, and hyaluronic acid exponentially decreases, and skin becomes thinner and drier. Research shows women's skin loses about 30% of its collagen during the first five years of menopause, followed by a further 2% of collagen every year for the next 20 years.
The Treatment:
Our bespoke menopause facial helps our clients look and feel better by combining a natural facelift with dramatic improvements after just one treatment, Our clients notice peri-menopausal and menopausal skin symptoms disappearing.
The 60 minute treatment includes a luxurious facial using high-quality natural products, hot towels, acu-pressure dermal roller, Jade Roller, Gua Sha, and facial cupping means the treatment is bespoke to each client's stresses and strains, and the layers of emotion and tension held in the face.
The treatment allows stress and tension below the surface level of the skin, to be gently eased away and reduces puffiness, fine lines, and wrinkles.  We also use Cryotheraphy to reduce pore size. Increases and improves blood flow into the skin. Stimulates and increases the production of collagen and elastin and increases muscle tone. We want to create a divinely transformational experience for the skin, mind and body.
The Benefits of The Menopausal Skin Facial
Boosts skin's radiance and collagen
Increases skin firmness
Stimulates skin rejuvenation to minimise the appearance of fine lines and wrinkles
Provides deep hydration
Improves skin tone and texture
Helps minimise hyper-pigmentation 
Helps minimise open pores
Combats oxidative stress and UV damage
What does the treatment involve?
This bespoke treatment begins with a thorough skin consultation and skin analysis.
Emphasis is placed on a treatment and homecare programme as well as dietary recommendations to help you optimise your skin health and help slow down the ageing process.  Your treatment is specifically designed for your own individual symptoms and concerns.
Taking your concerns into consideration a precise collection of the latest advanced machines, skin peels, specialist massage techniques and cosmeceutical products will be combined to deliver dramatic results. Using the award winning technology, this is one of a kind, painless treatment creates thousands of tiny micro-channels in the skin to aid the deeper penetration of active ingredients. The Menopause Facial is individual to you and may differ with each subsequent appointment depending on your concerns and your skin's health.
Long term results and skin maintenance are achieved by continued regular advanced clinical treatments and accompanied by a preventative, corrective and protective homecare regime.
Downtime
There is no downtime after this facial.
Normal activities can be resumed immediately.
How long does the treatment take?
60 minutes. If necessary, the treatment can be lengthened accordingly.
Cost
From £96.00 per session
If appropriate for your skin a double session or treatment course may be recommended, but there is no obligation to book this.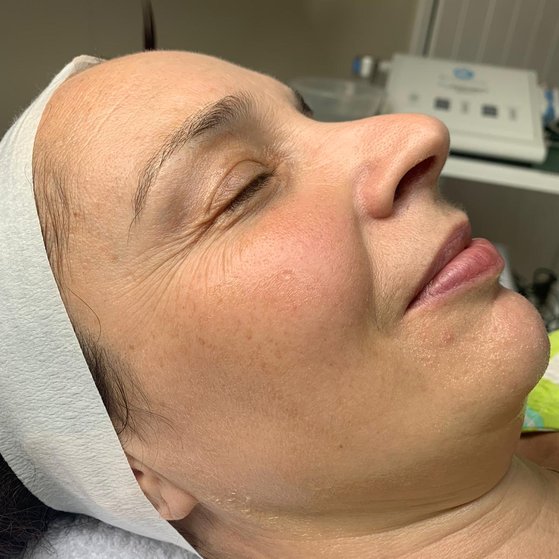 Before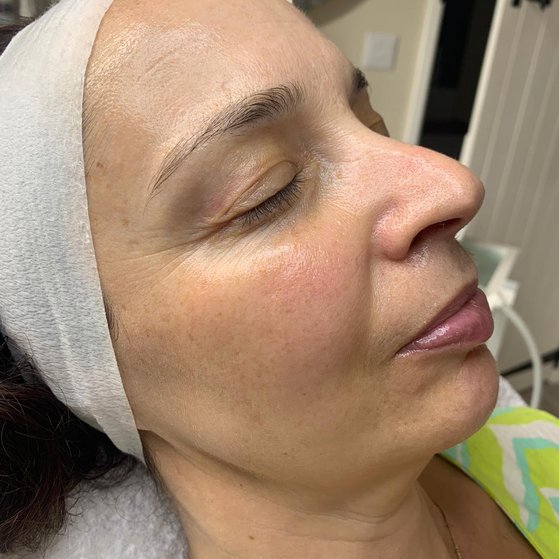 After