Treatments |

Sensitive Skin & Rosacea

This facial is great for sensitive and reactive skins weakened by external aggressions. Stress, cold, heat all contribute to sensitive skin feeling constantly uncomfortable. This facial is a soothing and comforting break. Redness fades away whilst the skin recovers its suppleness and softness. 

For those of us that suffer with rosacea, finding the perfect treatment can be very much a 'trial and error' process. The reason treatments are hard for us to find is because unfortunately, the cause of rosacea is largely unknown.

We know at The Skin Investment Clinic that every patient is different, and your case of rosacea is completely individual. This is why we tailor our treatments to our client's individual needs and requirements.
The Treatment
The soothing Facial is a bespoke treatment scientifically formulated for hypersensitive and rosacea-prone skin.
Incorporating the latest, advanced techniques and cosmeceuticals, Kate's treatment helps to strengthen the skin, reduce inflammation and rosacea breakouts, and desensitise your skin to the triggers of rosacea. It also improves the texture and tone of the complexion and helps prevent rosacea progressing to more advanced stages. This intensive facial treatment simultaneously helps prevent and correct the signs of ageing by helping to combat free radical damage and encouraging skin renewal.
This custom-created facial is suitable for all skin types and colours. It works effectively for both men and women.
The Benefits of The Advanced Clinical Rosacea Facial
Helps reduce redness, flushing, break out and inflamed skin
Helps desensitise the skin; raises tolerance levels so the skin becomes more resistant to rosacea 'triggers'
Protects and supports blood capillaries to reduce broken capillaries and encourage replacement and repair
Helps repair the protective barrier on the skin's surface
Helps improve hydration levels
Combats oxidative stress and UV damage to help prevent and correct skin ageing
Stimulates skin renewal for an improved texture
The Condition: Rosacea
Rosacea is a common skin condition characterised by facial flushing, skin hypersensitivity, persistent redness, broken capillaries, papules and pustules. In more advanced rosacea symptoms can extend to tissue distortion and can even affect the eyes. Rosacea is categorized into four stages and is a progressive condition that affects the nose, cheeks, forehead and chin. The cause of rosacea is largely unknown but a genetic predisposition is often at the root of development. Exposure to the sun on sensitive skin types is thought to be the number one catalyst for the condition.
Rosacea generally affects those aged between thirty and sixty and is more common in those with fair skin, blue eyes and of Celtic origin. Affecting both sexes, it is three times more common in women than men although men suffer more severe symptoms. Characterised by remissions and relapses, rosacea is exacerbated by 'triggers', the most common being environmental, emotional, and dietary.
Rosacea is currently not considered a curable condition. Whist it cannot be cured, it can usually be controlled with the removal of known triggers, scientifically proven skincare, regular clinical treatments and, if necessary, medication.
What does the treatment involve?
The sensitive skin Facial begins with a thorough skin analysis and consultation, concentrating on helping you understand what is contributing to your rosacea so it can be treated appropriately. Concentrating on defining individual rosacea triggers and advising on a treatment and skin care programme helps to reach the ultimate goal of a clearer, calmer skin.
After determining the stage of your rosacea the treatment is then designed specifically for you, choosing from a host of the latest advanced techniques, superficial skin peels and clinical cosmeceutical products. The amount of inflammation present and the strength of your skin's barrier determines the approach that is taken when designing your treatment. Special attention is placed on a detoxifying lymphatic drainage massage which helps to transport away toxins and bacteria, reduce lymph fluid congestion and helps regenerate the damaged tissue. This prevents the rosacea progressing to the latter stages. If necessary, comedones are thoroughly extracted to prevent break out. The skin is left feeling calmer, more hydrated and less puffy.
The sensitive skin Facial is individual to you and may differ with each subsequent appointment depending on your concerns and your skin's health.
Long term results and skin maintenance are achieved by continued regular advanced clinical treatments accompanied by a preventative, corrective and protective homecare programme.
Downtime
There is no downtime after The sensitive skin Facial. Normal activities can be resumed immediately.
How long does the treatment take?
From 60 minutes.
If necessary, the treatment can be lengthened accordingly.
Cost
From £96.00 per session
If appropriate for your skin a double session or treatment course may be recommended, but there is no obligation to book this.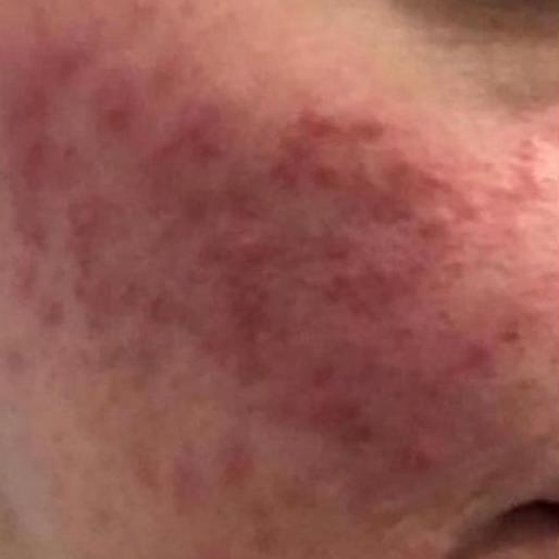 Before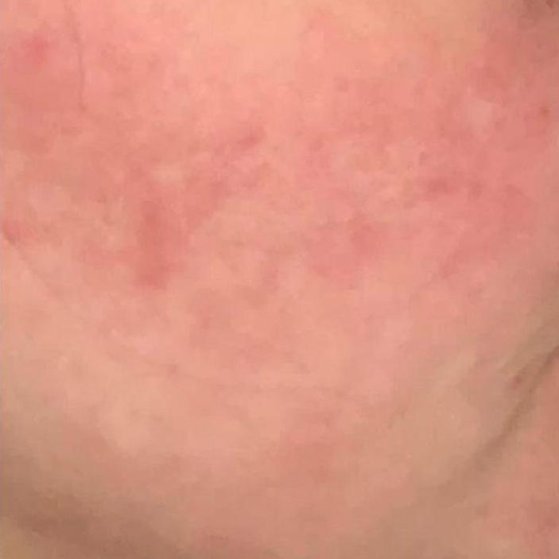 After