Treatments |

Microneedling

Reduce fine lines and wrinkles, plump facial volume and fade acne scarring.
What is microneedling?
Microneedling treatments can stimulate, regenerate and repair, improve epidermal turnover and fortify the components of the extra cellular matrix, reducing the visibility of scar tissue, lines and wrinkles and improving overall skin conditions.
Microneedling (also known as skin needling or collagen induction therapy) is a type of treatment that uses small needles that cause tiny punctures in the skin. These small contact points encourage the body to create a wound healing response and renew the skin cells. As your skin repairs, the production of collagen and elastin is triggered to give an almost immediate plumping effect. It can also help tackle other skin damage such as scarring, dark marks, sun damage and ageing.
Three simple steps to start your journey
Step 1: Book a no obligation consultation with a skin expert. BOOK NOW
Step 2: Visit our skin clinic and meet you skincare specialist for a consultation, where they will:
Assess your skin

Discuss the best options to treat your skin

Explain the microneedling procedure, recovery, likely outcomes and costs.

Go through your post medical history

Answer any questions you may have
Step 3: Begin your microneedling treatment
Benefits of Microneedling
Microneedling is most commonly used to treat the following skin conditions:
Dull Skin: Rejuvenate tired and dull skin and combat the initial signs of ageing
Wrinkles: fine lines and wrinkles on the face can be visibly reduced, as microneedling triggers collagen production.
Scarring: Scars from acne and Chicken Pox can be improved and an uneven texture can be smoothed out with microneedling.
Pigmentation: Can help to fade dark patches such as pigmentation due to sun damage and ageing.
Microneedling is a great treatment for you if you have darker skin because it doesn't involve peels or lasers, which can cause pigmentation issues.
Treatments can be performed on the body as well as the face. Pricing depends on the area of the body.
How long is the treatment recovery time?
The reaction from the treatment is determined by the needle length used and the skin type and condition. 24-48 hours after the treatment normal erythematic and tactile sensations will have reduced or even gone altogether. Appropriate homecare will help the recovery and maximise results of the treatment.
What is involved?
A micronedling device is taken over the skin causing fractional wounding which triggers an inflammatory response. When the skin is injured a series of reactions take place in order to maximise and repair tissue damage. A pin-prick injury to the skin goes through the same three stages of the healing response as any larger wound, This causes a healing cascade to regenerate and encourage collagen and elastin production.
Cost
For the face – recommended a course of 6 treatments costs £1,500 (£250 per session)
For the body – recommended a course of 6 treatments £2,130 (£355 per session)
Frequently Asked Questions
What conditions can microneedling be used to treat?
Microneedling treatments are able to stimulate, regenerate and repair the skin, improving epidermal turnover and fortifying the components of the extracellular matrix, reducing the visibility of the scar tissue and improving overall skin condition. It is a treatment widely used for post acne scarring, aging, skin redness and vascular damage, pigmentation and stretch marks.
Why do I need more than one treatment?
The effects of the treatment are cumulative. Your body will slowly develop collagen and elastin over time and therefore it is beneficial to have a course of 6 treatments to achieve the best results.
Is the treatment painful?
There can be some slight discomfort. However in deeper depth microneedling treatments the physician may use a topical anaesthetic to reduce the discomfort.
Are there different types of devices?
Yes, micro needling falls into two main categories, manual and mechanical. Both types of devices are physically rolled or moved over the skin by the practitioner who will work systematically to cover the treatment area and focus on specific needs. A mechanical device such as the m. pen pro by mesoestetic allows for easy adjustment of the depth and speed of the treatment. The M.Pen can be adjusted from creating 6,500 microchannels per minute up to 10,000 per minute at a depth of 0.25mm down to 2.5mm.
Microneedling how long to see results?
You will see a plumping effect almost immediately, however the natural healing process takes time, so it can take up to six weeks before you can see significant results.
How long does microneedling last?
Following microneedling treatment, the collagen and elastin triggering process will continue over the following months and several treatments are usually required to achieve the best results.
Can microneedling help acne?
Microneedling can help improve the appearance of a variety of skin conditions, including scars from acne.
Does microneedling get rid of fine lines?
Microneedling can rejuvenate tired and dull skin and combat the initial signs of ageing, as well as visibly reduce fine lines and wrinkles on the face as it triggers collagen and elastin.
Is microneedling safe?
Going to a regulated and qualified practitioners is the best way to treat your skin condition safely and effectively. Out microneedling treatment is carried out in highly clinical, sterilised operating rooms with many years experience. We will follow strict clinical protocols, which means you can be rest assured that the procedures are very safe.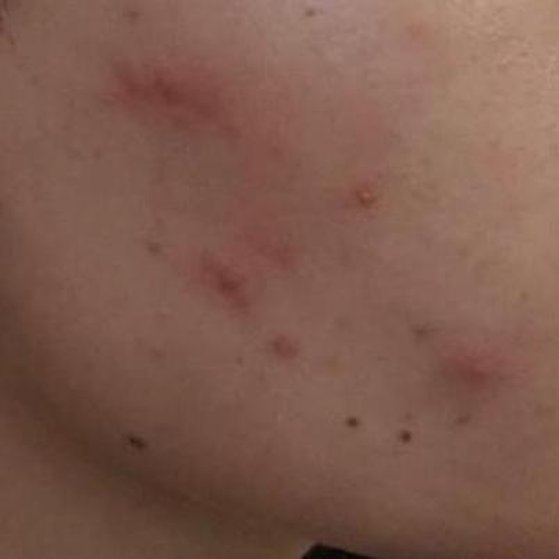 Before
After