Treatments |

Pigmentation

The Clinical Pigmentation Treatment is a customisable brightening facial designed to help improve photo damaged skin, melasma – the 'mask of pregnancy' and post inflammatory hyper-pigmentation caused by acne lesions.

This clinical treatment combines an advanced skin peel, vitamin C serum and other antioxidants and lightening ingredients to reduce melanin production and help break down existing pigment.  Not only does this treatment improve the appearance of hyper-pigmentation, help fight free radical damage and brighten the complexion but it also helps stimulate collagen production to help tighten the skin and reduce fine lines and wrinkles.
The Benefits of the Advanced Clinical Pigmentation Treatment
Improves the appearance of hyper-pigmentation and dullness by exfoliating surface skin cells
Helps lighten brown spots and even out skin tone
Decreases the frequency of acne breakouts and fades the appearance ofpost inflammatory hyper-pigmentation
Stimulates collagen production to reduce signs of photo-ageing, including fine lines and wrinkles
Softens and smooths the skin's texture
Increases radiance
The Condition: Pigmentation
The colour of our hair and skin is predominantly due to the amount of brown melanin pigment produced by our melanocyte cells.  The amount of melanin present is determined by our natural skin colour (white, brown or black) and by photo-type, which is the skin's response to UV exposure, or tanning.
An increase in melanin (hyperpigmentation) can be caused by an increased number of melanocytes (pigment cells) or from increased production of the melanin pigment. The opposite of this (hypopigmentation) is caused by a decrease in melanin.
Melanin's job is to protect the body from damaging ultraviolet light which Is why those with hypopigmentation conditions, such as albinism, need to take extra care to protect their skin from the sun's harmful rays.
The sun, genetics, medication and skin ageing are the main factors that influence skin pigmentation.  These factors can cause melanin to distribute unevenly in the skin and accumulate at the surface of the epidermis causing uneven skin pigmentation.  Unsightly dark spots or a diffused pigmentation form on the surface of the skin.
Types of pigmentation
Lenitgo also known as 'age spots' are due mainly by the intrinsic ageing of the skin.
Solar Lentigo is caused by considerable, regular sun exposure.
Melasma is pigmentation concentrated across the cheeks and nose and is generally due to hormone imbalances and can be caused by medication or sun exposure during pregnancy.  This is known as the 'mask of pregnancy'.
Ephiledes or 'freckles'  are clusters of concentrated melanin.  Although freckles are genetic they are triggered by exposure to sunlight and are sometimes known as 'Liver Spots'.
Post-inflammatory pigmentation occurs following acne and is due to excess melanin caused by inflammation.
What does the treatment involve?
The Clinical Pigmentation Facial begins with a thorough skin consultation where emphasis is placed on helping you understand what is contributing to your pigmentation, how to treat it and just as importantly, prevent it reoccurring or worsening. Your treatment is then designed specifically for your skin type, skin colour and pigmentation concerns. The severity of your pigmentation, your skin's health and any other concerns you may have determine the type of skin peel selected.
After a thorough cleansing the skin is prepped and the chosen skin peel is applied.  The optimised combination of ingredients helps reduce melanin production in the skin and also helps to break down existing pigment. Once the peel has been neutralized a bespoke Vitamin C Firming Masque is applied.  This masque is mixed with antioxidants and further skin lightening serums to help fight free radical damage, tighten the skin and continue the lightening process. The skin is detoxified by a gentle lymphatic drainage massage which helps to transport away toxins and bacteria to help regenerate any damaged tissue and further brighten the skin. A vitamin and peptide infusion is then performed where cooling, calming, pressurized oxygen increases the absorption of carefully selected products.
Downtime
After the Advanced Clinical Pigmentation Facial you may notice that the skin is more red than usual for up to two hours afterwards.  The skin may feel tight or dry and you may experience mild flaking in certain areas for a few days. Rarely, you may experience crusting of the skin or swelling.
How many treatments do I need?
A course of 4-6 treatments is recommended to obtain desired and realistic results.
Each treatment should be spaced approximately 2 weeks apart.
A maximum of two treatment courses is recommended within a one year period with a three month break in between each course.
To obtain optimal results you must adhere to an anti-pigmentation focused skincare programme and be extremely strict with sun protection, wearing a minimum SPF 50 broad spectrum sunscreen daily.
Long term skin maintenance is achieved by regular clinical facials and accompanied by a preventative, corrective and protective homecare regime.
How long does the treatment take?
60 minutes.
Cost
From £96.00 per session
If appropriate for your skin a double session or treatment course may be recommended, but there is no obligation to book this.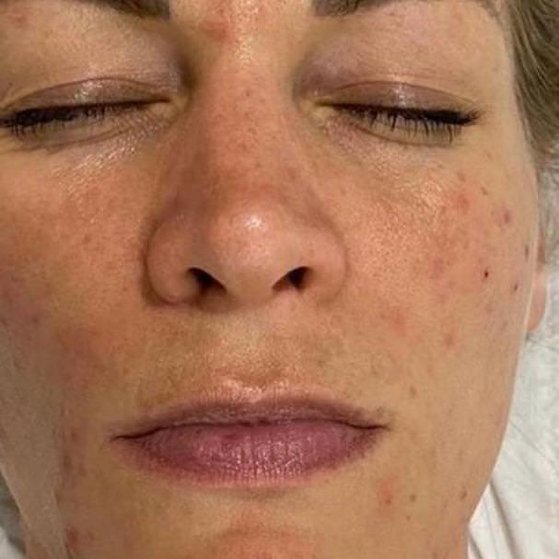 Before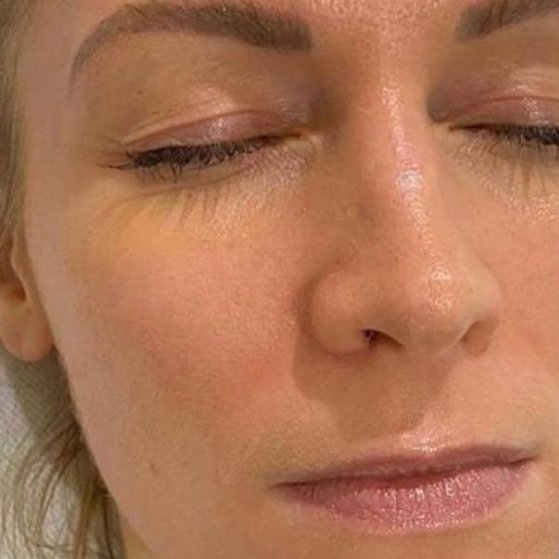 After