Treatments |

Acne

Find the more confident you, with clearer and brighter skin, by having our acne treatment at The Skin Investment Clinic. We know how much acne can cause distress to many individuals and we have a proven record of treating acne and acne scarring, leaving our patients looking and feeling great.

At The Skin Investment Clinic we understand that acne can have a negative impact on your life and can be damaging to your self confidence. Treating acne is often a long journey and can take its toll. Our aim is simply to get your skin back looking the way you want it to look. We have a proven 3 step process to help treat your acne. Our skin experts are passionate about improving and controlling your symptoms, so you can live your life without having to worry about your skin. We are here to offer an ongoing advice to patients who are undergoing treatment as we know that acne can be unpredictable and so we are here to help and advise.

Step 1 – Book a no obligation consultation with an experienced acne practitioner, where we examine and discuss your acne. By talking to our acne experts you are taking the first step to seeing results and regaining your confidence. BOOK HERE

Step 2 – visit our skin clinic and meet your skin expert for a one to one consultation. During this consultation we shall:
Understand your concerns and what has been causing your acne

Assess your acne and discuss options for treatment

Explain the procedure, recovery, likely outcomes and costs

Go through your post medical history

Answer any questions that you might have regarding the treatment
Step 3: Begin your acne treatment.
All of our treatments are performed in a clinical environment. Imperfections and impurities are visibly reduced, pores tightened and shininess erased, revealing a healthier, luminous and clearer complexion. Beauty is restored. By changing the skin's environment, this treatment programme targets the four key contributing factors that lead to the development of acne.
We will prescribe an ongoing acne treatment programme which includes a range of home care products. This will ensure that you get the best possible results faster.
What does the treatment do?
Reduces oil production which in turn prevents oily skin and helps prevent blackheads & whiteheads developing

Reduces skin thickening – normalises skin cell production thereby preventing the backlog of dead skin cells that lead to the development of blackheads & whiteheads

Controls and reduces acne bacteria, which helps to prevent inflammation that leads to breakout

Calms and soothes inflammation, reducing acne scarring risk and unsightly inflamed spots
The Benefits of The Acne Facial
Reduces excess sebum that leads to a greasy, oily skin

Removes blackheads and whiteheads, dead skin and other impurities

Diminishes existing acne

Helps prevent new break outs

Helps improve skin's texture

Helps reduce acne scars and post acne hyper-pigmentation
The Condition: Acne
Acne is a common skin condition that involves the hair follicle and its associated sebaceous (oil) gland. It is commonly characterised by papules that are referred to as 'spots'. The spots can range from comedones (blackheads & whiteheads) which are often mild, to inflamed pus filled lesions such as papules, pustules and nodules (cysts). Inflamed acne is more severe and can lead to scarring. The most common type of acne is known as acne vulgaris. Although acne is not dangerous, it does have far reaching social and psychological effects.
Acne is caused by the skin's sensitivity to a fluctuation in hormones. The skin reacts by causing a fatty acid depletion which upsets the protective barrier on the surface of the skin. The skin tries to counteract this by producing excess oil to rebuild the depleted barrier. The skin starts to thicken and normal skin shedding slows down. The combination of these two factors causes an accumulation of dead skin cells and oil within the pore. This plug or blockage is known as a comedone. The acne bacteria, propionibacterium acnes, which is naturally present on the skin, builds up under the comedone causing inflammation, which leads to the formation of papules, pustules or cysts. It is important when treating acne to address each of these contributing factors and not just treat the symptoms.
Types of Acne
Acne is classified into three different types:
Mild – you will see whiteheads and blackheads

Moderate – you will see whiteheads, blackheads, papules and pustules (a papule is a small red bump, a pustule is a small bump on the skin that contains fluid or pus)

Severe – many large, often painful papules and pustules, as well as nodules or cysts. Scarring may also be present.
Can all types of Acne be treated
Yes, we help clients with all types of acne. The treatment solutions we offer will depend on the grade. But even if you're thinking your acne may be too severe to treat, we have expert doctors who we can recommend for highly effective treatments and prescribe medication if required.
Acne reviews
'It felt like I had never gad a day without acne, until I came to The Skin Investment Clinic '
"Thank you so much for all your help with my skin. I honestly cannot believe the transformation and how quickly it happened. It's the best feeling finally being able to leave the house without foundation on, so thank you for helping me get my confidence back"
What does the treatment involve?
Firstly, a thorough skin consultation, concentrating on helping you understand what is contributing to your acne so it can be treated accordingly. Emphasis is placed on both dietary and skin care advice to help you reach your goal of a clearer complexion. Your treatment is then designed specifically for your acne symptoms and skin concerns. The severity of your acne, the amount of inflammation present and the strength of your skin's barrier function determine the approach that is taken when designing your treatment.
A combination of the latest advanced superficial skin peels and cosmeceutical products is considered or alternatively microdermabrasion or light therapy is used. These advanced techniques smooth the skin's texture, promote healthy cell renewal, remove impurities and excess oil and help calm inflammation to facilitate healing. The skin is left glowing with a clean and fresh feeling. Most importantly, attention is placed on extensive extractions followed by the use of a high frequency machine to help clear existing spots whilst helping to prevent post facial break out. Additionally, the skin is detoxified by a gentle lymphatic drainage massage which helps to transport away toxins and bacteria to help regenerate the damaged tissue. The treatment is completed with a blast of Hyperbaric Oxygen, where we flood the skin with 180 million nutrient particles of pure hyperbaric oxygen to restore the skin and calm any inflammation.  The Clinical Acne Facial is individual to you and may differ with each subsequent appointment depending on your concerns and your skin's health.
NB Once your acne is under control, we have a number of options that we would recommend to combat acne scarring, reduce poor size and improve skin texture.  These also have the added benefit of helping to treat and prevent skin ageing.
Long term results and skin maintenance are achieved by continued regular advanced clinical treatments accompanied by a preventative, corrective and protective homecare programme.
Downtime
Skin might be a little red for a few hours after the treatment
How long does the treatment take?
60 minutes.
If necessary, the treatment can be lengthened accordingly.
Cost
From £96.00 per session
Frequently Asked Questions
What is acne?
Acne is caused when the pores of your skin become blocked with bacteria, oil or dead skin. Each pore on your skin leads to a hair follicile or sebaceous gland . Oil glands release sebum (oil) which travel up the hair through the pore and onto the surface of your skin. Poor hygiene doesn't cause acne, however, having a good skincare routine and keeping your skin very clean can help prevent pores from becoming blocked.
What are the causes of acne?
Puberty and hormonal changes are the most common factors. Also, stress can be a cause, as can the skincare products you are using, or it could simply be down to genetics. Women are much more likely to suffer from acne due to hormones – this includes pregnancy, during your period, or id you suffer from Polycystic ovarian syndrome (pcos)
Will acne be cured?
There is no definitive cure for acne. Our aim is to improve and control your symptoms as best we can. It can sometimes take a long time to clear so we will work with you continually to find the best course of treatment. We also see some clients who see amazing results in just a few weeks.
How do you treat severe acne?
It is likely we will recommend a series of treatments such as salicylic and azelaic acid peels. It might also involve a referral to a Doctor to prescribe antibiotic tablets or hormonal therapies, for example the combined oral contraceptive pill for women can often be effective to treat severe acne. We have also seen incredible results using a supplement combining vitamin A, C, E and phytonutrients. Free from harsh chemicals, it works to feed every cell in the body to help support all areas of the skin including the face, chest, back and shoulders without drying out the skin.
What does severe acne look like?
This will appear as a large number of papules and pustules on your face and possibly your chest and /or back. The nodules and cysts will be painful and you will be at risk of scarring, therefore it is essential that you seek advice about acne scarring.
Will acne go away on its own?
During teenage years, it can often go away on its own. However adult acne is much less likely to clear. But this will always vary person to person and you should always be aware of the risk of scarring, so if you are concerned always seek for some advice.
What food is good to eat to prevent acne?
Some skin-friendly food choices include: whole grains, legumes, unprocessed fruits like apricots, blueberries, tomatoes and red grapes, unprocessed vegetables like carrots, avocado, sweet potato, beetroot, spinach and other dark green and leafy vegetables. Food containing mineral zinc, vitamins A and E and chemicals called antioxidants, Quinoa, Turkey, Fish, Oat milk, pumpkin seeds.
How can I try to prevent acne?
Acne may not be preventable in many cases, but you can look after your skin as best you can. Think about your skincare regime at home and the right products for your skin type.
What home care products should I use to treat acne?
Our acne treatment programme has been specifically designed by our skin experts and each product has been carefully selected from our range of high-quality skincare brands. As skin experts, we ensure your skin is perfectly prepared before your treatment and make sure you have the correct knowledge and home care products to care for your skin after your treatment. Your new skincare regime will ensure that you see the best possible results from your professional treatments. We can make these recommendations.
How can I remove my acne scars?
Acne scars can be stubborn and seemingly permanent, but there are proven effective treatments available to diminish the appearance of acne scarring. The best treatment for your skin will depend on the type of acne scarring you have.
Are acne scars red?
Some acne scars may be red, purple or pinkish in colour due to a build-up of melanin in the skin. If the area is red and is still inflamed and swollen, the acne is likely to still be active. Our skin experts will be able to advise you about effective treatments for active acne, which may help to minimise the risk of acne scarring.
Are acne scars permanent?
Usually, your reddish or brownish acne marks that are left behind after pimples clear up, and will fade with no need for treatment. However, picking or squeezing acne can increase the risk of scarring.
Will acne scars heal over time?
Some scarring may heal, depending on the severity. There are three types of scarring, ice pick scars (small deep holes), rolling scars (uneven skin) and boxcar scars (craters in the skin). We may recommend chemical peels or micro-needling for acne scarring.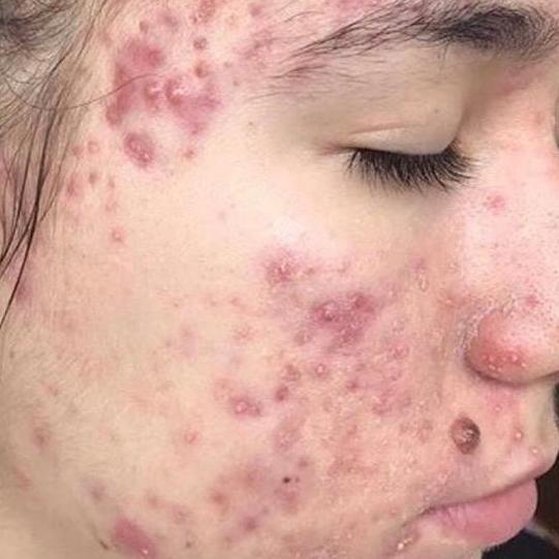 Before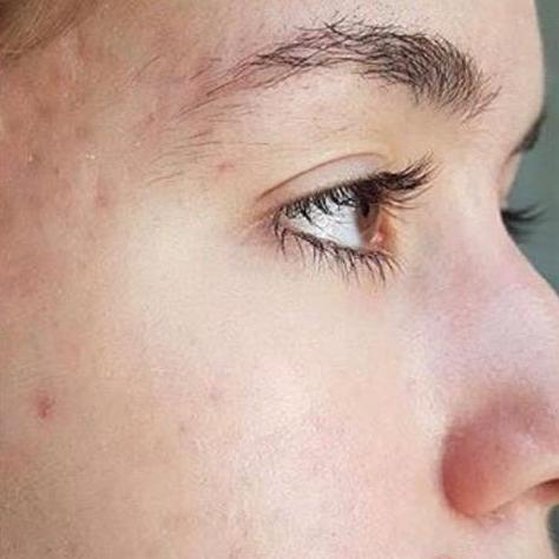 After